Copenhagen Plant Science Centre > Event calendar > 2017 > CPSC Lecture with Silk...
CPSC Lecture with Silke Robatzek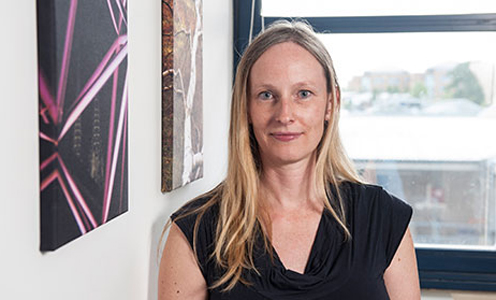 On 23 February 2017 Professor Silke Robatzek from the The Sainsbury Laboratory, UK will give a CPSC lecture.
How endocytosis regulates immunity
Our main research focus has been how cells defend themselves against infection of their extracellular space by microbial pathogens. Conserved microbial patterns activate cell surface receptors that are essential for host immunity, and induce their internalization.
Over the years we have characterized immune receptor-mediated endocytosis, a process conserved across different receptor family members. Yet, the significance of receptor-mediated endocytosis in the regulation of immune signalling remained controversial.
We recently have revealed that endocytosis of cell surface immune receptors is a mechanism for sustaining cellular responsiveness to microbial patterns, as it exists in natural encounters of plants with their biotic environment, to confer long-term anti-bacterial immunity.
Sara Ben Khaled, Gildas Bourdais, Michaela Kopischke and Silke Robatzek, The Sainsbury Laboratory, Norwich Research Park, Norwich, NR4 7UH, UK.
This work is supported by the Gatsby Charitable Foundation and a grant by the European Research Council (ERC).
About Silke Robatzek
Professor Silke Robatzek has a PhD in Biochemistry from Max-Planck-Institute for Plant Breeding Research, Cologne, Germany and has since worked as a Postdoctoral Fellow at the Max-Planck-Institute and at the Friedrich-Miescher Institute for Biomedical Research & Botanical Institute, University of Basel, Switzerland. She is an Honorary Professor (Habilitation in Cell Biology 2009), Botanical Institute, University of Basel, Switzerland and since 2009 Group Leader at the The Sainsbury Laboratory, UK.