Copenhagen Plant Science Centre > Event calendar > 2017 > CPSC Lecture with Barb...
CPSC Lecture with Barbara Ann Halkier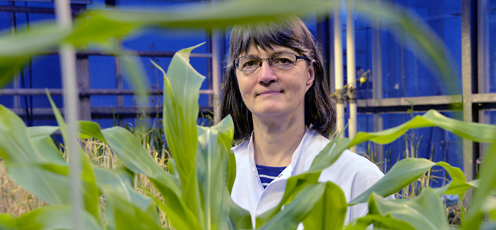 On 19 January Professor Barbara Ann Halkier from DynaMo Center of Excellence, Department of Plant and Environmental Sciences, University of Copenhagen will give a CPSC Lecture.
How does a plant orchestrate distribution of its defense compounds? - using glucosinolates in Arabidopsis as case study
Barbara Ann Halkier's research focuses on the glucosinolate defense compounds in the model plant Arabidopsis thaliana. For humans, glucosinolates (or rather their hydrolysis products) are associated with the health-promoting properties of cruciferous vegetables e.g. broccoli, the sharp flavor of mustard as well as the anti-nutritional factors in oilseed rape meal.
In her talk, Barbara Ann Halkier will focus on the orchestration of the transport processes from site of biosynthesis to storage in the laticifer-like S-cells. This requires localization of the biosynthetic pathway at the cellular level and identification of transporter processes involved. One of our goals is to unravelling the transporter complement of glucosinolates, which will advance our understanding of the transport processes intracellularly and between cells at the tissue and whole organismal level.
Furthermore, this may enable removal of anti-nutritional glucosinolates from edible parts of Brassica crops by transport engineering. From an applied perspective, glucosinolate research can contribute to improve human nutrition by engineering the production of glucosinolate into microbial organisms as source of dietary supplements.
In her talk, Barbara Ann Halkier will report on how far they are towards this goal. Finally, as the DynaMo has just been extended, a brief overview of the goal for DynaMo2.0 will be presented.
Time: 19 January 2017, 15:00-16:00.
Place: Thorvaldsensvej 40, 1871 Frederiksberg C, lecture room A2-70.03.