23 June 2015
New postdoc at CPSC: Welcome to Annemarie Matthes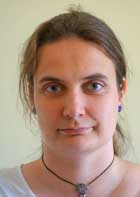 On 1 July Annemarie Matthes will start as a postdoc at CPSC. She will be responsible for running the new proteomics platform at the centre and will be a part of Dario Leister's research group.
She comes from a postdoc position at LGBP University Marseille and INRA Versailles IJBP where she has been researching TOR dependent translational responses elucidated by quantitative proteomics.
She has previously worked as postdoc at the Mac Planck Institute of molecular plant physiology on the topic: development of proteomics methods for the identification and characterization of nucleic acid binding proteins in plants.
She received her PhD from University of Potsdam in 2011.
Welcome to Annemarie.